Amberif
We cordially invite you to our stand (A201) to get acquainted with our new lines prepared exclusively for the 2016 edition of the Amberif fair (16th-19th March).
more >>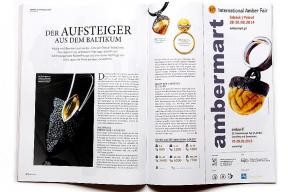 Amberif 2014
This year Amberif Fair was special for us due to the First Prize awarded to Art7 in the Mercurius Gedanensis competition.
more >>
Amberif 2013
From 20 till 23 March 2013 we had the pleasure to exhibit at the Amberif Fair in Gdansk.
more >>
Inhorgenta Munich 2013
From 22 to 25 February in Munich the anniversary edition of Inhorgenta Munich took place.
more >>
Amberif 2012
At the Amberif Fair we presented a number of new collections underlining both the beauty of amber as well as current jewellery trends.
more >>
Amberif 2011
On 9-12.03.2011 during the 18th edition of the Amberif Fair we will present the latest collection of Art7 jewellery.
more >>
Inhorgenta Europe 2009
At Inhorgenta 2009 Art7 presented three works that are the essence of our approach to amber jewellery -  our devotion to the primeval power of amber and enchantment with the spirit of modern technology.
more >>